Birgitta Hosea
United Kingdom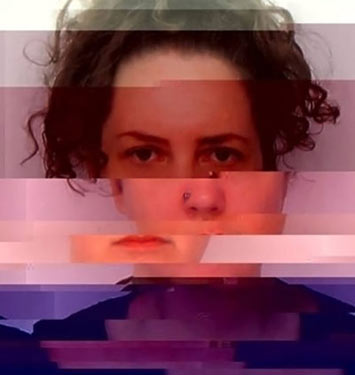 Holes: Touching the Void
PRESENTATION: Sa, 26 March, 11:00 @ BICKLE KINO – Belvedere 21
A hole is an absence; a lack.
In this presentation, Birgitta Hosea will discuss the background to her animated installation, Holes (ASIFAKEIL, Vienna 21-2). In the installation, the whole gallery is turned into a peepshow inside which can be seen an abstract film that hints at the interior spaces of the human body. With this project, she intended to create an 'open text' (Umberto Eco, [1962], 1989] in which the viewer could fill this absence with their own interpretation.
Although intended to be received as 'open' and without a fixed interpretation, the work was not itself created through a lack of ideas. The Holes film was made during the COVID pandemic when touch and bodily contact could lead to infection and the mouth or the nose could become the entry point for the virus. Under the isolated conditions of lockdown, when the future was momentarily cancelled and time stood still, the project mutated into a meditation on touch, desire and absence. The tactile filmmaking became a methodology for coming out of the head and back into the realm of the body and the senses; the slow, analogue processes enabled each frame to be held, cherished and lingered over at a time when normal, everyday activities had been suspended.
The spatial setting of Holes was originally inspired by archival research into pre-cinematic devices and the aim to experiment with possibilities for expanding animation out of the screen and into the three-dimensional space of the gallery. Informed by readings of queer and feminist phenomenology, this then developed into an investigation into how to use abstraction and spatial experience to represent that which is usually absent and unrepresented – the first-hand experience of queer female desire.
Biography
Birgitta Hosea is an artist and curator working with expanded animation, experimental drawing and live performance to create durational images, embodied events, experiential installations and short films that expand the concept of the moving image out of the screen and into the present moment. Currently Professor of Moving Image and Director of the Animation Research Centre at the University for the Creative Arts, Farnham, she was previously Head of Animation at the Royal College of Art and prior to that at Central Saint Martins, where she completed a practice-based PhD in animation as a form of performance. Her most recent exhibitions include ASIFAKEIL, Vienna; National Gallery X, London; Venice & Karachi Biennales; Oaxaca & Chengdu Museums of Contemporary Art; Hanmi Gallery, Seoul. Her work is included in the Tate Britain and Centre d'Arte Contemporain, Paris, archives. She has been awarded an Adobe Impact Award, a MAMA Award for Holographic Arts and an honorary fellowship of the Royal Society of the Arts. Having written publications on drawing, performance and experimental animation, her most recent book is Performance Drawing: New Practices Since 1945 (Bloomsbury, 2020) co-written with Maryclare Foá, Jane Grisewood and Carali McCall.